We had a blast last weekend at the Largo Innovation Campus, where we hosted two exciting events: a forum on modular housing and a community day. We would like to thank all the attendees and partners who joined us and supported us. Here are some of the highlights and outcomes of our events.
Blue Line Corridor Sustainable Energy & Construction Technology Forum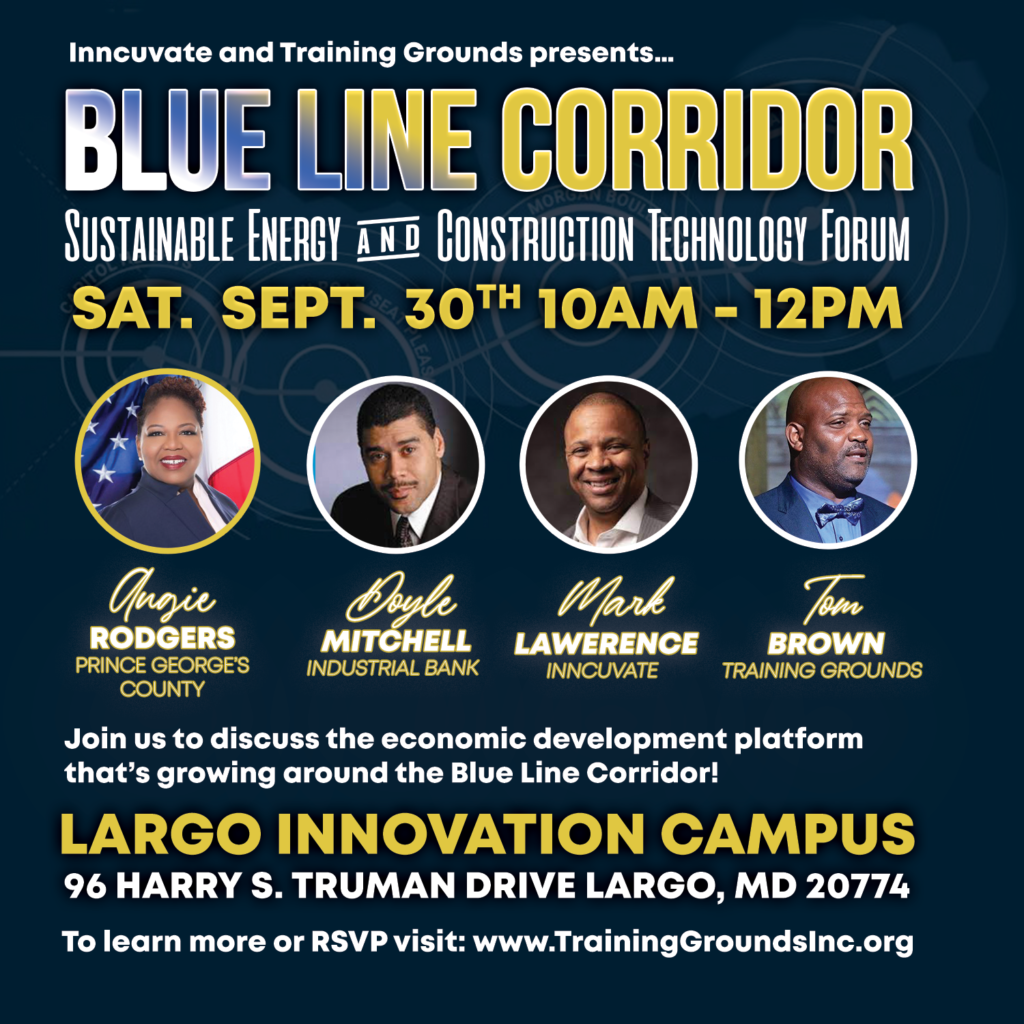 We were thrilled to have dozens of stakeholders, local real-estate developers, contractors, technology firms, and community development organizations participate in impactful discussions during the forum. Here's some highlights of the experience:
Angie Rodgers, Chief Administrative Officer of Prince George's County, MD, explored the county's economic engines.
B. Doyle Mitchell, President of Industrial Bank, expressed excitement about sustainable energy and workforce development opportunities in the county.
Brunson Cooper from Corenic Construction emphasized equity ownership and the significance of the Innovation Campus.
Mark Lawrence, CEO of Inncuvate, aims to establish an ecosystem supporting innovative enterprises.
Tom Brown, Executive Director of Training Grounds, plans to bridge the skills gap and foster economic growth in the community.
John Deadwyler, Director of Sustainable Energy at Prince George's Community College, highlighted opportunities in construction and building technology.
Brian Guadio, CEO of Module, envisions a local facility for sustainable energy housing solutions and employment opportunities.
Dr. Katrina Polk, Founder & CEO of Dynamic Solutions, discussed affordable housing for seniors and vulnerable demographics, as well as opportunities for minorities and women in development .
These individuals are contributing to the economic growth and sustainable development of Prince George's County through various initiatives and innovative approaches.
The unit will be on display Oct. 11th-15th. If you are someone you know who is interested in modular homes as an affordable housing or real-estate development solution, then we invite you to schedule a private tour!
Community Day
Our community day at the Largo Innovation Campus hosted more than one hundred (100) residents. We had fun activities, food trucks, music, and giveaways for everyone. We also had a modular home unit that people could tour and see for themselves. The modular home unit was a demonstration of the features, benefits, and potential of modular housing. The community day was a blast, as we saw a lot of smiles and curiosity from the attendees. We also received a lot of questions and comments about our project. We were happy to share our story and vision with them.